Searching for matches on SimpliSingles is easy!  Once you're logged in, click the 'Search' button towards the top of your screen.  You'll be presented with a search box where you can select your criteria.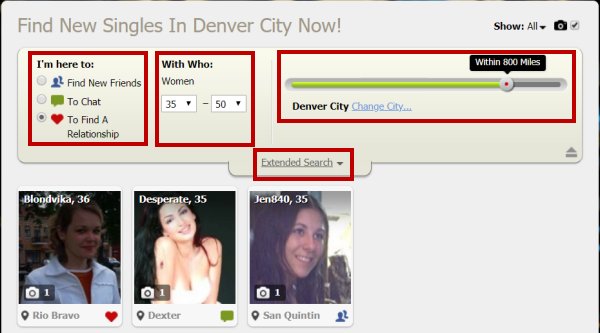 In the first section "I'm Here To" choose:
To Find New Friends
To Chat
To Find A Relationship
In the second section "With Who" choose:
The age range you're looking to date within
In the third section "Distance Slider" choose:
The acceptable amount of miles your match should be within

Note: The larger miles allowed, the more results you'll get
If you choose to further narrow your results, click the "Extended Search" link to be presented with additional criteria.

In the extended search area, you can refine results using up to three (3) of the following options:
Height
Weight
Body Type
Hair Color
Eye Color
Sexuality
Status
Kids
Smoking
Drinking
Education
Star Sign
Language
Hobbies
Note: you should not limit your results too aggressively as this will result in fewer matches.  These extended search attributes also assume the users have defined them in their profiles.  These are not required fields!  Do not miss out on matches by being too picky!