Halloween Parties and Couple Costumes
It is that time again – Halloween!  Planning a party?  Wanting a couple costume?  Maybe both?  Start with planning a Halloween party.  Select the date and be mindful of friends with children who might want to take their kids out on Halloween.  It is usually best to have your party the weekend before Halloween or the day before Halloween.  This will free up people from having to choose events to attend directly on Halloween.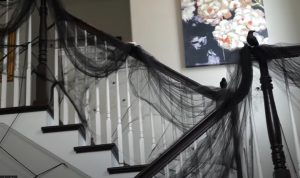 Popular themes for a party never really change year to year.  Hollywood Horror Movie, Monsters, Witches, Skeletons, Disney Villains or Hocus Pocus are all themes you can incorporate decorations and themed food. 
Hollywood Horror Movie – start by selecting a few movies to center around.  Choose up to 4 or 5 of your favorite movies, use a Stephen King theme or even Horror-Comedy shows like Little Shop of Horrors and Rocky Horror Picture Show.  Selecting the theme will narrow down decorations and food options.
To use a Hollywood Horror Movie party with IT, Cugo, Pet Sematary and Children of the Corn as movie decorations, print out movie posters of each and hang them up around the house.  Getting a decorative cat, cut out corn, printing the clown from IT and hanging them up around the house.  Tie a red balloon outside coming out of the storm drain and then red balloons on each side of the food table. 
Using a printer to print out characters or props will keep the cost down.  Most party stores, such as Party City, also have small props you can use.  Always check down all isles of the store because you never know what you will find!
Food for this type of party would typically involve clever naming tricks.  Make chocolate chip cookies and name them Cugo Treats.  You can serve tamales and name them Children of the Corn Naked Husks.  A new washed-out kitty litter box with scoop can make for a delicious and entertaining candy and granola litter box. 
Hot dogs cut to look like fingers and name them IT Fingers.  Also have apothecary jars around the room filled with candy.  Halloween means candy and everyone wants to indulge. 
Couple costumes should not be a headache.  They should be fun!  Television or movie couples make good costumes or think outside the box and select other costumes that are not common.  Wine and cheese, Barbie and Ken or soap and scrub brush are a few that are not very common.  These are cute and you will not need to worry about many showing up with the same costume. 
If you have specific questions or an idea we didn't touch on?  Don't be afraid!  Leave your comment(s) in the area below.
| | |
| --- | --- |
| Loading ... | Loading ... |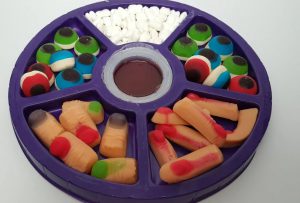 Tags: #halloween21 #halloween #halloween2021 #couplecostume #halloweencostumes #halloweenfood #halloweenparty