My Dating Adventures – Episode 9
"Finding Love At Work"
An original [blog series] on SimpliSingles
All the advice columns say not to date at work and I lived by these words. Plenty of single, good looking men work in my area and we often speak, but I keep it professional. Complicating things at work by dating someone is never a good idea.
Stacey invited me to join her on a speed dating adventure and since I wasn't dating anyone at the moment it sounded like a great idea. Del Mar had hosted the speed dating event once a month and I have heard everyone participating gets a free drink and appetizers coupon and that would give Stacey and myself something to do after the event.
The Event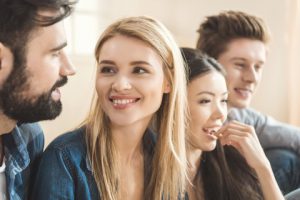 We arrived and completed the mini questionnaire getting ready to meet some available men. The dimly lit room was meant to be a romantic setting and the first few men I met were nice, but there was no spark. Then he sat in front of me… A handsome well-built piece of yummy! He introduced himself as Logan then I realized I knew this man, I worked with this man! Logan looked at me and smiled letting me know that now I had to talk to him. Smiling back I started the questions on my conversation card and so did he. Logan flirted, made a sad face when it was time to move onto the next table and kissed my hand when he left to go to the next table.
At the end of the event we were to place three names of someone we wanted to get to know better and I did put Logan's name down because I thought it was safe. Not following the rules, I did not put any other names down. Del Mar matched you with someone who also put your name down and the idea was that you would spend your drink and appetizer coupons that night getting to know each other.
Who I ended up with
Much to my surprise, Logan was paired with me. He actually put my name down on his card too. Logan quickly came to my side and asked if I would join him at a table. Stacey had been matched and indicated she wanted to stay to talk to her new friend. I saw no harm in hanging around with Logan and the next thing I knew Del Mar was closing! We had stayed talking until 2:00 in the morning; I was thankful it was Saturday.
Logan and I dismissed the rule of not dating a co-worker and we were able to keep work at work and home at home. Several months passed and we discussed moving in together then the unthinkable happened; Logan got a transfer to another country. Long distant relationships rarely work out and we tried for a few months. Coming up on our 1 year anniversary we decided to part as friends and I later found out that wonderful Logan had started dating again.
Now I stick to my rule of no dating at the workplace. It has taken some time to bounce back mainly because most things at work remind me of Logan and a few people who knew we dated always remind me too. Take my advice and do not date at work unless that person is so far removed from your duties that your paths never cross and good luck.
Tags: #datingatwork #workdates #datingadventures #singles #relationships