My Dating Adventures – Episode 11
"The Yacht"
An original [blog series] on SimpliSingles
Dating can seem daunting at times and even exhausting when trying to find that special someone. I found Ethan online and sent him an introduction email and he responded. Immediately Ethan asked me out on a date and I accepted; which is unusual for me because I like to email a little first before meeting. Ethan seemed different and I was eager to meet him. We shared the same hobbies, liked the same movies, food and other interests.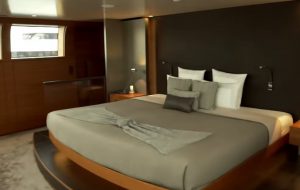 Ethan had a boat and we enjoyed it most of the time; even spending the weekend on the water once or twice. During one of these weekends, Ethan had a great idea for us to travel from Florida to the Gulf of Mexico and back. Ethan's job allowed him the luxury to work from home as did mine so we were all set for a boating adventure. Ethan had a mini yacht or mini cruiser as they were called and I knew the trip would be comfortable. His yacht had 7 bedrooms, hot tub, lounge deck, and two living rooms with huge televisions. There was even a 12-crew person quarters if he decided to have one.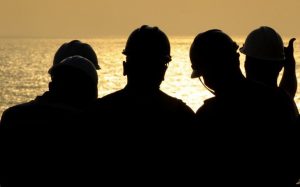 Ethan and I decided to hire a Captain, concierge and two deck hands. This all sounds like a dream, but it is all practical and makes the trip much safer. We started out on a clear day with smooth seas and we even had dolphins swimming with us. Ethan and I made dinner together and sat outside under the start enjoying a great meal.
The next day we arrived at Marco Island and decided to stay the night at dock. A storm had kicked up and we felt it safer at the dock rather than at sea. The next morning we took a cab to Hoot's Breakfast & Lunch for a yummy brunch. Work time claimed me for the next few hours. I set myself up on the deck and worked as we cruised to our next port.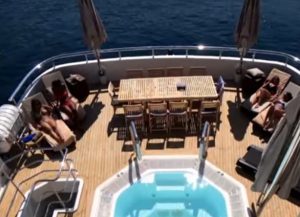 Ethan decided we needed a cook because we spent too much of our time cooking. I really admired him for thinking of me and wanting me to have a vacation. He was able to put out a call for a cook and found one in Clearwater Florida. Now we had a crew of five. Hiring the cook freed up more time for us to spend together and I loved every minute of the time.
We stayed an extra day in Clearwater and played in the water. I slid down the deck slide and bounced off the end splashing into the water. We both slide down like little children and had a great time.
During dinner, Ethan received a phone call and excused himself. I thought nothing about it because it happened so often. His job was very demanding and he had to keep in constant communication with his staff. After 10 minutes he returned and motioned for me to continue without him. Reluctantly I finished and waited for him on the upper deck.
He found me and apologized. I offered to get him something to eat but he refused and retired early. Mood swing? I was confused but we all have bad days and he is entitled to one as well. I stayed up and watched the stars trolling Facebook.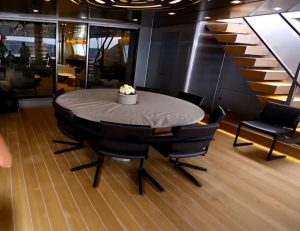 The next day we made it to Saint Andrew Bay and restocked our supplies. Ethan's mood seemed to be more somber and grew distant. He spent most of his time working during our second week on the water and I spent most of my time alone. This was cause for concern and I decided to talk to him one night. He brushed it off as me being insecure and I brushed it off as he was tied to his job. I got one good week before he reverted back to his normal workaholic self.
We were in Mobile Bay Alabama when I confronted Ethan again and this time he grew a little angry. He let me know that if I did not like it; I could get off the boat and go home. I was so shocked by his tone and action I had to think on it. Over the next few days, I tried to make the best of the time we did share and it was not the same.
We arrived in New Orleans and decided to stay in a hotel a couple days taking in all the festivities. Once again Ethan was consumed by work. I toured most of New Orleans by myself. I even booked my flight back to Florida by myself too. When we left the hotel I let Ethan know that I was heading back home and not returning to the boat. He did not seem upset or phased at all. He only let me know that he would send the rest of my belongings at the next port. He was going on without me and was happy to do so.
My ego took a shot. I thought he was a keeper but I was wrong. Ethan loved his job more than anything. Sad to think he will never find anyone who truly loves him for him and not his money. I wanted both and I lost out or did I? I know so many women say they want to marry money and do not care about the husband, but that makes for a very lonely marriage.
Tags: #dating #lettinggo #boatlife #relationships #singles